Join Dubai's DXB Snow Run this August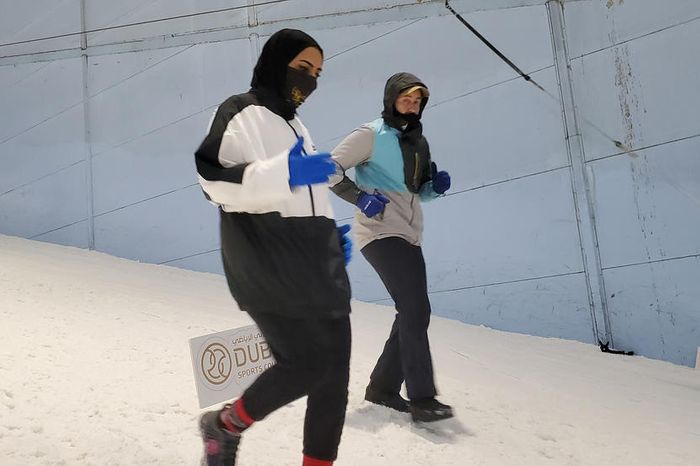 Feeling hot, hot, hot? Welcome to another balmy summer in Dubai. So how about a chilly run in the snow to mix things up?
As everyone living in the city knows, even when it's 40-odd Celcius outside, it is always possible to play in the snow in Dubai. And now, you can get a jog in while you're at it.
Taking place on Friday August 14, DXB Snow Run is a 3km run open to anyone aged between 18 and 62, taking place through Mall of the Emirates' Ski Dubai – and it's the first event of its kind to take place in the city.
You'll need to be quick to register, as there are only 300 spots available (see below for registration website). Taking part is priced at Dhs180 per person.
The event is part of Dubai Sports Council's DXB Snow Week, which runs for two days across Friday August 14 and Saturday 15, and will also feature skiing and snowboarding competitions throughout the weekend.
If a run doesn't sound quite your speed, Ski Dubai has also launched 48-hour camps to help you get your slope stripes in just two days, as part of Dubai Summer Surprises. Priced at Dhs600 each, both the ski and snowboard packages include four lessons with a certified instructor, assessments, equipment and gear for all lessons and a signature hot chocolate after each lesson. The first lesson is 60 minutes, while the remaining three are 90 minutes each.
No heart for the summer humidity? You know where to be for at least one weekend in August…
For the latest deals, offers and activities taking place during Dubai Summer Surprises, click here.
DXB Snow Run Dhs180 per person. Friday August 14, from 6.30am. Ski Dubai, Mall of the Emirates, Al Barsha, register online at premieronline.com.